TOP BEST-SELLING ONE PIECE T-SHIRTS
One Piece is one of the most well-known manga and anime series in the world. This series has piqued the interest of readers of all ages due to its interesting and amazing material and great characters. You won't want to miss out on the following goods if you're a big fan of the One Piece series. In addition, Summer is approaching, and it will be blazing hot. As a result, a T-shirt is unquestionably necessary in your wardrobe. If you're tired of plain T-shirts with no fashion or flair, put on our 3D One Piece T-shirt.
Are you looking for a 3D One Piece T-shirt? Look no further because One Piece Store will meet all of your requirements.
The eyeballs on our best-selling 3D One Piece t-shirt will be revealed in the following post. With the linked link, you can see all of our One Piece T-shirts.
1. USOPP GOD T-Shirt
Usopp is a pirate coming from the Syrup Village and he was the leader of the Usopp Pirates before joining and becoming the official sniper of the Straw Hat Pirates. He wishes to follow his father's lead and become a pirate as brave as him so every day he pushes himself to get there.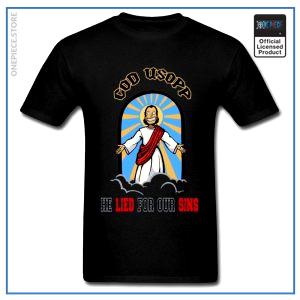 Top Best-Selling One Piece T-Shirt
Our 3D shirt is extremely comfortable to wear in hot weather because of the excellent blend of polyester and cotton. Furthermore, the long-lasting printed feature on the front of the shirt will keep you looking trendy at all times, catching everyone's attention on your path.
Support this incredible character by getting our awesome Usopp Shirt by One Piece Store !☠️
2. Whitebeard T-Shirt
Whitebeard, from his real name Edward Newgate, is known for being called "The strongest man in the world". He was the captain of the "Whitebeard pirates" and died in the battle of Marineford. He was also known for being the "Closest man to One Piece" after Gol D Roger's death. 
Top Best-Selling One Piece T-Shirt
The shirt is well-designed and made of high-quality materials, with cotton accounting for more than 70% of the total, making it quite pleasant to wear. Furthermore, the shirt's difficult-to-fade characteristic will ensure that it remains a fashionable T-shirt.
Show your Passion for one of the Strongest Pirates that existed by getting yourself our gorgeous Whitebeard T Shirt by One Piece Store ! ☠️
3. Zoro Santoryu
Roronoa Zoro is the first person Luffy will recruit. Zoro is an unusual swordsman: he fights with three swords (one in each hand plus one he holds with his teeth, this style is called: santoryu), and he has set himself an equally extraordinary goal: to become the best swordsman in the world!
Top Best-Selling One Piece T-Shirt
The shirt is extremely vibrant because of the well-mixed hue, with the primary color being green and a variety of other colors. The shirt is well-designed and constructed of high-quality materials, with cotton accounting for more than 70% of the overall weight, making it quite comfortable to wear. Furthermore, the shirt's ability to resist fading will ensure that it stays a trendy T-shirt.
Today , you can master the Three Swords Style by getting our incredible Zoro T Shirt with the effigy of Zoro especially designed by One Piece Store ! ☠️
4. Luffy Eating Ramen T-Shirt
Luffy – the main character of the story, well-known for his hunger and craving for food. He can easily eat a ton of food without hesitation and is still happy whenever he can eat meat or other things. With an adorable design, the "Luffy Eating Ramen T-Shirt" can catch the eyes of anybody.Do you like Japanese Ramen and One Piece? Then our splendid Luffy Eating Ramen T-shirt will make you really hungry and fall in love with it! The T-shirt is worth purchasing because of its long-lasting graphic and soft cotton.
Let get Luffy Eating Ramen T-shirt right now!
5. Zoro VS Kuma T-Shirt
After throwing his strongest technique (Ursus Shock), Barthlomew Kuma walks forward to Luffy. At the exact moment he touches him, Zoro uses one of his strongest techniques to protect his Captain. Kuma was really shocked by the attack.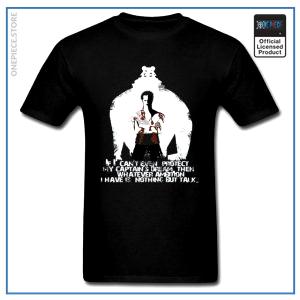 Being one of the best fights in One Piece, Zoro VS Kuma scene, with graphic design, is now printed on your shirt. The shirt is constructed of silky cotton, which allows them to absorb perspiration and provide comfort to the wearer. Furthermore, the design of these T-shirts reflects your freshness and energy. 
Don't hesitate, get Zoro VS Kuma T-Shirt from our One Piece  Collection.
VISIT OUR STORE RIGHT NOW TO FIND ALL OF THESE RECOMMENDATIONS AND MORE!
It is advantageous when purchasing items from our One Piece Store:
For all One Piece enthusiasts, we provide cheaper pricing than other brands. Furthermore, we frequently have incredible deals – insane sales throughout the year, such as Halloween, Christmas, Thanksgiving, Black Friday, and so on. 

Customers that purchase items from us will receive the best possible pricing.

PayPal checkout with Smart Payment Buttons provides a simple and secure checkout experience for your customers.
From click to delivery, you're always safe: All packages are given a tracking number, and if the goods are not received, a complete refund is given.
We're here to help you 24 hours a day, 7 days a week. For a hassle-free purchasing experience, contact us at any time.
Thank you for taking the time to read our blog. I hope you enjoy yourself and have a wonderful day.